CHIERI CITTÀ EDUCATIVA - Organization and management of the Bandera embroidery workshops for primary schools with the assistance of the City of Chieri.
RITORNO AL MUSEO
The 18 settembre è stato presentato il nuovo allestimento del Museo del Tessile, ospitato nei locali storici di via Santa Clara a Chieri. A part of the event took place all'Imbiancheria of Vajro, the historical site of industrial archeology renovated in bright exhibition space. Per l'occasione la nostra Associazione ha partecipato con un atelier di ricamo Bandera proponendo un disegno inedito studiato per l'occasione: shuttle, Typical textile tool used to frame to weaving warp and weft.
| | |
| --- | --- |
| | In the picture a detail of the of our Association all'Imbiancheria of Vajro |
| | |
& Nbsp;
| | |
| --- | --- |
| Un momento dell'inaugurazione del nuovo allestimento del museo del tesssile. Anna Ghigo fra il sindaco di Chieri Claudio Martano e il presidente della Fondazione Chierese per il Tessile Mario Ghirardi | |
| | |
| | |
| --- | --- |
| | |
| | the proposed Embroidery |
& Nbsp;
EVENTS AFTER
FESTA DELLA DONNA - Chialamberto (To) – Casa di Riposo delle suore di san Gaetano – 8 March
We were invited to give a lecture and a demonstration of our technique.
MANUALLY 2016 – Lingotto Fiere di Torino
XIII edition 15-17 April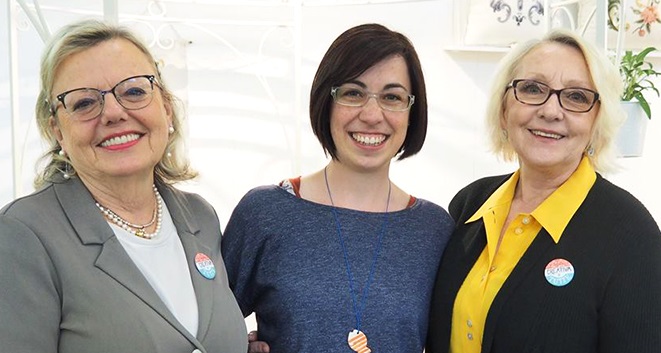 Valentina Scuteri fra Anna Ghigo e Orsola Benente
| | | | | |
| --- | --- | --- | --- | --- |
| | | Al salone l'Associazione Amici del Ricamo Bandera di Chieri ha ottenuto la spilletta/medaglia al merito 'La più creativa di tutte'. Tre blogger hanno girato fra gli stand come inviate speciali in cerca di creatività, cura del prodotto, autorevolezza e passione. Valentina Scuteri, che ha premiato il nostro stand, ha scritto: "Grazie ad Anna ho imparato a riconoscere il vero Ricamo Bandera: deve avere una base di tessuto bandera, represent some subjects defined as acanthus leaves,,it,traditional motifs, and only certain types of flower,,it,use a wool yarn and only a few colors. ",,it, motivi tradizionali e solo certi tipi di fiore, utilizzare un filato di lana di solo alcune tonalità di colore." | | |
MAGICAL THREADS - Castello della Rovere – Vinovo - 20-22 may
www.filimagici-vinovo.it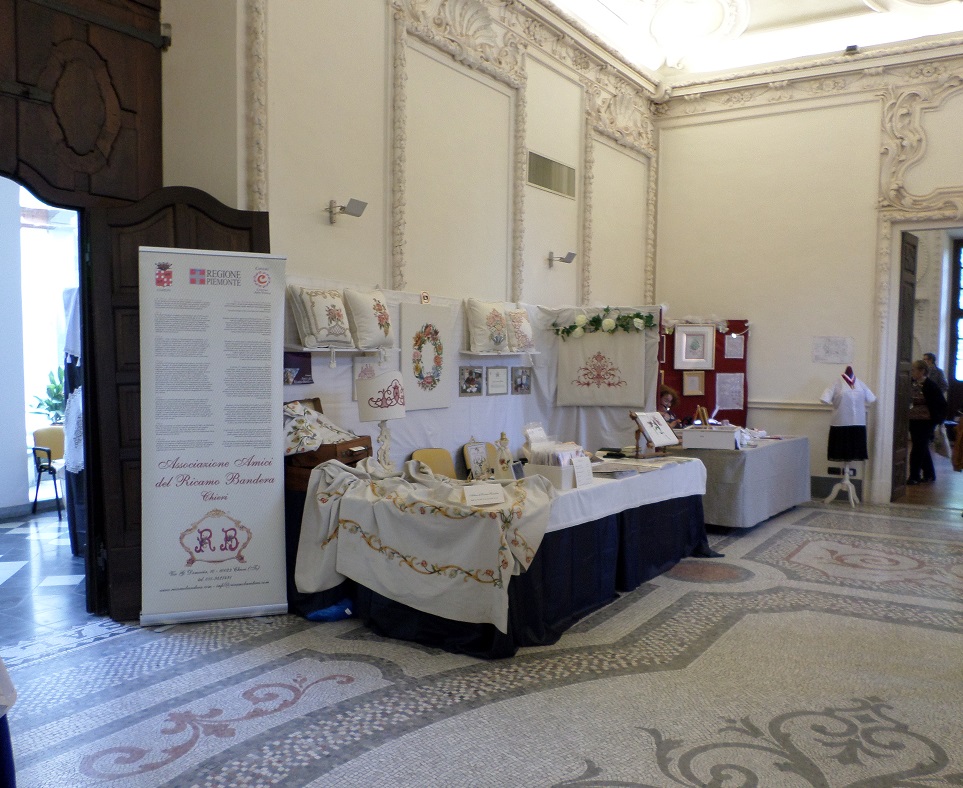 "To know and experience the techniques of embroidery Bandera"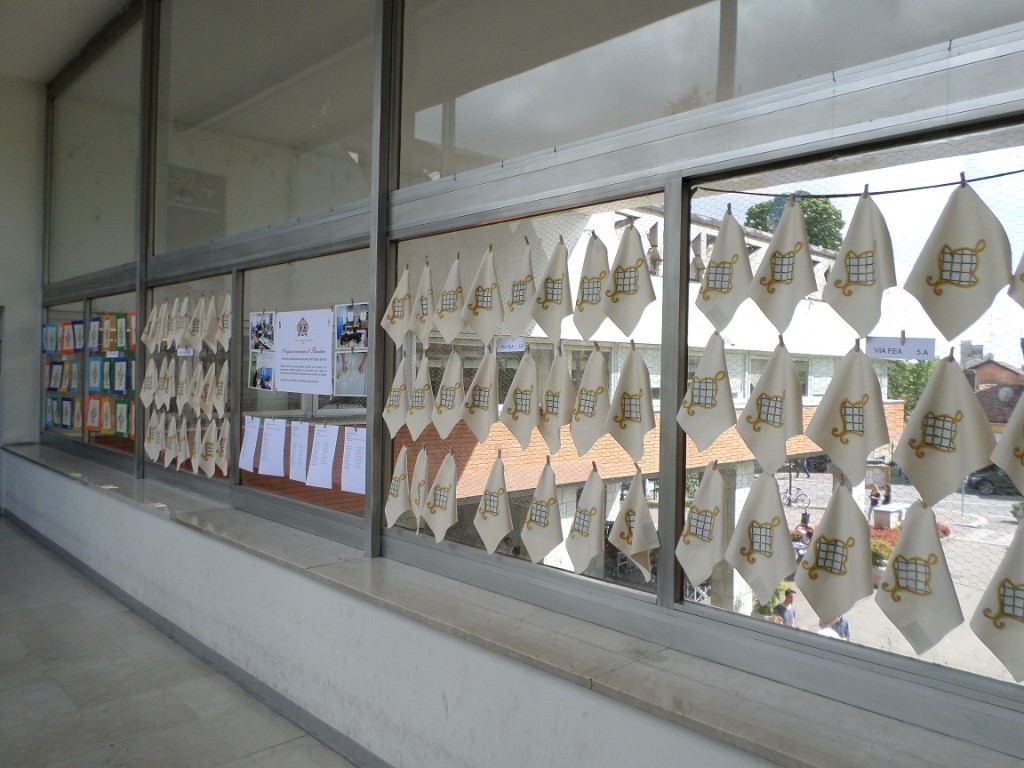 Un'immagine della mostra, che è stata allestita nei locali della biblioteca Nicolò Francone a fine anno scolastico, con tutti i lavori eseguiti dai bambini.
The President of the Friends of the Bandera Embroidery of Chieri and Orsola Benente, one of the longest standing members of, They taught embroidery Bandera more than a hundred students of primary scenes of Chieri schools that have joined the project "Understanding and researching the techniques of embroidery Bandera". the project, which he has contributed "Chieri Città Educativa" for social and educational policies and library service, attended schools:
SILVIO PELLICO: 5A teacher in (Arato, Cataldo, Bosco), 5to B (Cataldo, Amitrano, Bosco)
N.S. SCALE: 5C teachers (Ferrero, scale)
VIA FEA: 5A teacher in (Volpi, Benevento), 5to B (bertolotto, Benevento)
The objective of the textile tradition was aimed at primary schools in Chieri with the intent to experience an important activity, and as old as that of the Bandera Embroidery to stimulate the technical and manual skills and creativity. The embroidery workshops, 5 hours for each section, were held in a kit was delivered classes and pupils (prepared by the) with everything needed (lana, Flag fabric, drawing to trace with carbon paper, needle and label) to embroider a Baroque tile with classic embroidery stitches Bandera (chain and grass). The teachers have helped to finish the job.
MANUALLY 2016 – Lingotto Fiere di Torino – 22-25 September
www.manualmente.it