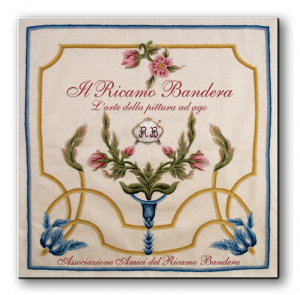 "Embroidery" Bandera. The art of needle painting "is a publication that the Association has prepared to celebrate its first decade of life and to offer all, not only the passionate this embroidery technique, the story of a refined and evocative form of Piedmont crafts.
"Bandera" is a name that has now become familiar to many Embroiderers, but its origin has very ancient origins, medievali, When in Chieri, where the cotton textile industry has had a remarkable success that lasts from now 800 years, the canvas bandera, a sturdy fabric initially targeting to clothing and household linen, and that in the 18th century proved to be ideal for embroidery that we all love and appreciate and who have inherited its name from the canvas.
In the pages of the essay turns people, works, materials, in an interesting subplot for the social and cultural implications that, with a pleasant and attractive language, accompanies the reader to discover not only a technique of embroidery, but a wide span of history of Piedmont.
There are so many precious pictures embroidered works Bandera, they are all historical examples with local relevance, as the bedroom of Auditors Benso di Cavour of London, and the bedroom of Auditors of Pertengo Tunin ETTI, Once set in Villa Moglia, a superb example of 19th century architecture in the hills of Chieri.
All without losing touch with reality and practicality, and so appear in the text of the recommendations arising from a long experience, they teach to take the fabric in the right direction, or to use when and how the frame, or the correct tracing of the drawing technique, for the creativity and the ability to express themselves best embroiderer, as was the case in the salons of yore, When the embroidery was the main occupation of the dame, which were initiated from childhood.
The wise, by 32 pages, is available at the headquarters of the Association.
& Nbsp;